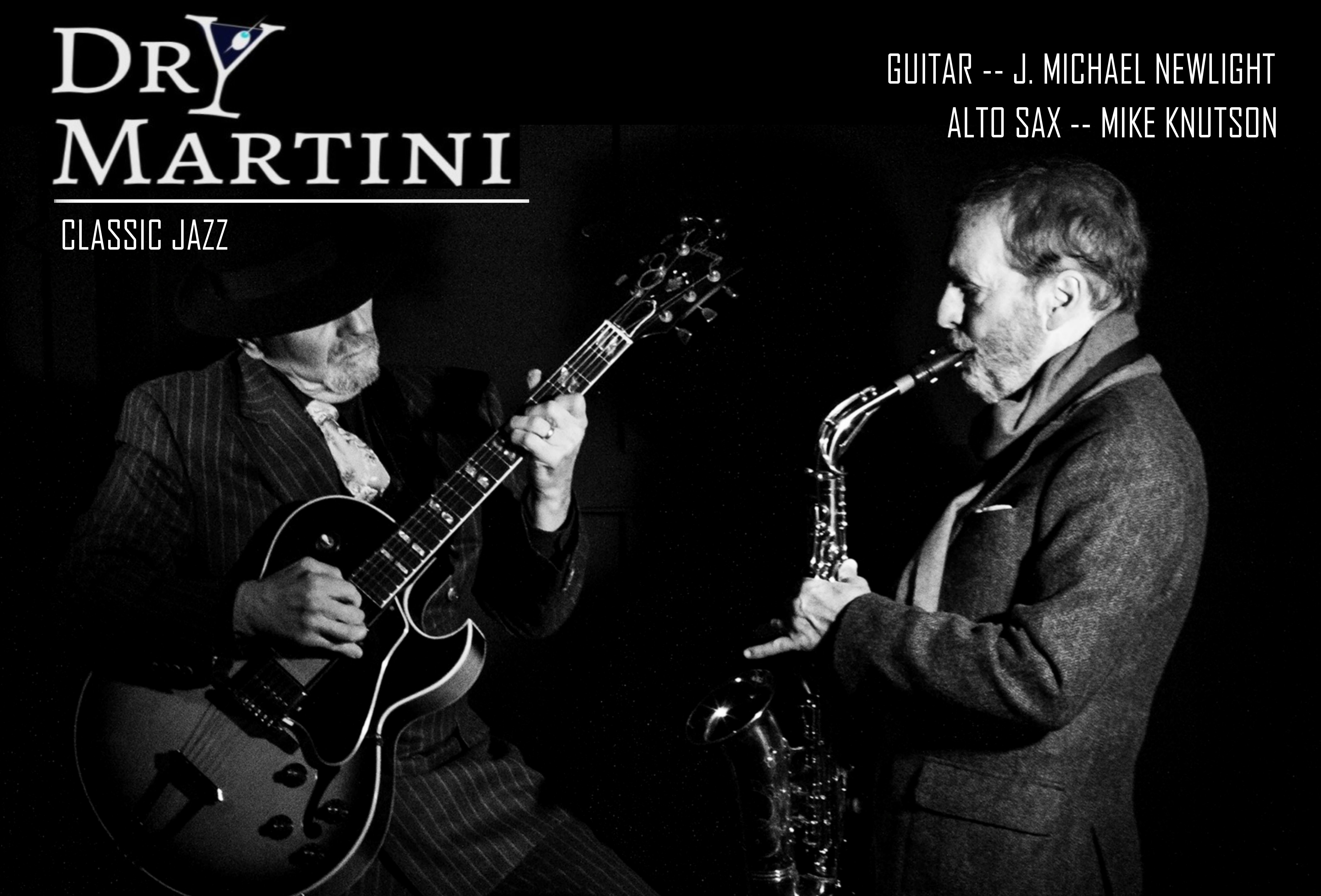 Dry Martini was formed in 2019 after Mike Knutson and J. Michael Newlight met over coffee at the Rustic Café in Fairhaven, and first performed together publicly at the grand opening of its successor, Café Blue. Since then, there have been numerous performances at both private events and public venues.
The name Dry Martini is an homage to the alto saxophonist Paul Desmond, who famously remarked that he wanted to sound like a dry martini. It also acknowledges our friends and mentors, saxophonist
Brent Jensen
and guitarist
Jamie Findlay
, whose 2001 and 2021 CDs are titled
"The Sound of A Dry Martini"
and
"More Sounds of A Dry Martini"
, respectively.
Mike Knutson started playing alto sax in high school and college, and after a hiatus of many years, has again taken up the sax, reflecting his lifetime love of jazz. He is a collector of vintage saxophones and a devoted family man.
J. Michael Newlight started on guitar in high school. In the '70s, he performed throughout the Northwest as half of the folk duo "Judith & Michael". Later, he and his nasty black Les Paul Custom guitar fronted the short-lived Bellingham rock band Secret Lives. Then came solo performances here and there as blues musician
Mike Leo
. At last, following this restless many-decade journey through folk, blues and rock, he has arrived at relaxed domesticity, bossa nova and cool jazz.
2022 Performance Schedule
Friday, August 12th
Firehouse Arts & Events Center
1314 Harris Avenue in Fairhaven
7:00-9:00pm
Tuesday, June 21st
Private Solstice Event (Chuckanut Shore Road)
4:00-6:00pm
Friday, June 3rd
Private Event (Old Fairhaven Parkway)
4:00-5:00pm
Monday, May 23rd
Firehouse Arts & Events Center
1314 Harris Avenue in Fairhaven
3:30-5:30pm
Saturday, May 14th
Private Event (Chuckanut Shore Road)
1:00-3:00pm
Monday, April 11th
Firehouse Arts & Events Center
1314 Harris Avenue in Fairhaven
3:30-5:30pm
2021 Performance Schedule
Monday, September 13th
Firehouse Arts & Events Center
1314 Harris Avenue in Fairhaven
3:00-5:00pm
Saturday, September 4th
Private Event (Samish Island)
5:00-8:00pm
Friday, August 27th
Private Event (Chuckanut Shore Road)
4:00-6:00pm
Friday, July 23rd
Private Event (Chuckanut Shore Road)
4:00-6:00pm
Monday, June 21st
Private Event (Chuckanut Shore Road)
4:30-6:30pm
Friday June 18th
Lighthouse Bar & Grill (Bellwether Hotel)
5-7:00pm
Friday, June 11th
Private Event (Chuckanut Shore Road)
4:00-6:00pm
Saturday May 22nd
Lighthouse Bar & Grill (Bellwether Hotel)
5-7:00pm
Friday May 7th
Lighthouse Bar & Grill (Bellwether Hotel)
5-7:00pm
2020 Performance Schedule
Sunday March 15th
Cafe Blue in Fairhaven
2-4:00pm
POSTPONED -- COVID-19
Sunday March 8th
Cafe Blue in Fairhaven
2-4:00pm
Saturday March 7th
Lighthouse Bar & Grill (Bellwether Hotel)
6-9:00pm
Friday March 6th
Lighthouse Bar & Grill (Bellwether Hotel)
6-9:00pm
Video Samples
Best viewed by clicking on the pop-out icon

Desafinado
(1959 Antonio Carlos Jobim)
Since I Fell For You
(1945 Buddy Johnson)
Wendy
(1976 Paul Desmond)
The Gift
(1959 Djalma Feireira & Luiz Antonio & Paul Francis Webster)
The Girl From Ipanema
(1962 Antonio Carlos Jobim)
Dry Martini Collage
Take Five 0:03
The Gift 0:47
Since I Fell For You 1:14
Wendy 2:20
Wave 2:54
How Insensitive 3:17
The Girl From Ipanema 3:47
Blue Bossa 4:43
Desafinado 5:42
Corcovado 6:30
Black Orpheus 7:09
Round Midnight 7:38
Representative Repertoire
A Felicidade – 1958 Antonio Carlos Jobim & Vinicius de Moraes
A Foggy Day In London Town – 1937 George & Ira Gershwin
A Nightingale Sang in Berkeley Square – 1939 Manning Sherwin, lyrics Eric Maschwitz
A Taste of Honey – 1960 Bobby Scott & Ric Marlow
Agua De Beber – 1965 Antonio Carlos Jobim
Ain't Misbehavin' – 1929 Fats Waller, Harry Brooks & Andy Razaf
All of Me – 1931 Gerald Marks & Seymour Simons
All of You – 1954 Cole Porter
All Or Nothing At All – 1939 Arthur Altman & Jack Lawrence
All The Things You Are – 1939 Jerome Kern & Oscar Hammerstein
Angel Eyes – 1946 Matt Dennis, Earl Brent
Antigua – 1957 Antonio Carlos Jobim
April In Paris– 1957 Vernon Duke, Yip Harburg
Autumn In New York – 1934 Vernon Duke
Autumn Leaves – 1946 Joseph Kosma, French lyrics by Jacques Prevert, English by Johnny Mercer
Bahia – 1938 Ary Barroso
Besame Mucho – 1940 Consuelo Velazquez
Black Orpheus (Manhā de Carnaval -- Carnival Morning)– 1959 Luiz Bonfá
Blue Bossa – 1963 Written by Kenny Dorham, introduced by Joe Henderson
Blue In Green – 1959 Miles Davis (Bill Evans)
Body & Soul – 1930 Johnny Green, lyrics Edward Heyman, Robert Sour & Frank Eyton
Born To Be Blue – 1946 Mel Torme & Robert Wells
Bossa Antigua – 1964 Paul Desmond
Brazil – 1942 Ary Barroso & S.K. Russell
Bye-Bye Blackbird – 1924 Ray Henderson & Mort Dixon
Chega De Saudade – 1957 Antonio Carlos Jobim, lyrics Vincius De Moraes
Desafinado – 1959 (Portuguese "Out of Tune") Antonio Carlos Jobim
Dindi – 1959 Antonio Carlos Jobim & Aloysio De Oliveira
Don't Get Around Much Anymore – 1940 Duke Ellington
Dreamsville – 1958 Henry Mancini
Fly Me To The Moon – 1954 Bart Howard
For All We Know – 1934 J. Fred Coots, lyrics Sam M. Lewis
Four – 1954 Miles Davis written & recorded
Gravy Waltz – 1963 Ray Brown, lyrics Steve Allen
Harlem Nocturne – 1940 Earle Hagen & Dick Rogers
How Insensitive – 1963 Antonio Carlos Jobim, English lyrics Norman Gimbel
I Don't Stand A Ghost of a Chance – 1932 Victor Young, Ned Washington & Bing Crosby
I Left My Heart In San Francisco – 1953 George Cory & Douglass Cross
It Had To Be You – 1924 Isham Jones, lyrics Gus Kahn
Joanna – 1959 Henry Mancini
Let's Get Lost – 1943 Jimmy McHugh & Frank Loesser
Like Someone In Love – 1941 Jimmy Van Heusen & Johnny Burk
Like Young – 1950 Paul Webster & Andre Previn
Line For Lyons – 1952 Gerry Mulligan
Little Boat – 1961 Roberto Menescal
Look To The Sky – 1967 Antonio Carlos Jobim
Love For Sale – 1930 Cole Porter
Lush Life – 1948 Billy Strayhorn
Manhattan – 1925 Richard Rogers & Lorenz Hart
Mas Que Nada – 1963 Jorge Ben
Meditation – 1960 Antonio Carlos Jobim, lyrics Norman Gimbel
Mercy, Mercy, Mercy – 1966 Joe Zawinul (for Cannonball Adderly)
Michelle – 1965 Lennon & McCartney – Rubber Soul
Misty – 1954 Errol Garner, lyrics by Johnny Burke
Mood Indigo – 1930 Duke Ellington, Barney Bigard & Irving Mills
Moonglow – 1933 Will Hudson, Irving Mills & Eddie DeLange
More – 1962 Riz Ortolani & Nino Oliviero
Mr. Lucky – 1959 Henry Mancini
My Funny Valentine – 1937 Richard Rogers & Lorenz Hart
Nancy With The Laughing Face – 1942 Jimmy Van Heusen & Phil Silvers
Night And Day – 1932 Cole Porter
Night Train – 1951 Jimmy Forrest based on earlier Duke Ellington composition
Nuages – 1940 Django Reinhardt, Jacques LaRue
On A Slow Boat To China – 1948 Frank Loesser
On Green Dolphin Street – 1947 Bronislaw Kaper & Ned Washington
One Note Samba – 1960 Antonio Carlos Jobim
Our Love Is Here To Stay – 1938 George Gershwin, lyrics Ira Gershwin
Out of Nowhere – 1931 Johnny Green, lyrics Edward Heyman, first recorded by Bing Crosby
Pennies From Heaven – 1936 Arthur Johnston & Johnny Burke
Petite Fleur – 1952 Sidney Bechet
Poinciana – 1936 Nat Simon, Buddy Bernier
Quiet Nights – 1960 ("Corcovado") Antonio Carlos Jobim
Rockin' Chair – 1929 Hoagy Carmichael
Round Midnight – 1944 Thelonius Monk
Samba Cantina – 1964 Paul Desmond
Samba de Orfeo – 1959 Luis Bonfa, Lyrics Antonio Maria
Satin Doll – 1953 Duke Ellington & Billy Strayhorn, J Mercer
Scotch And Soda – 1959 Dave Guard
Silver Anniversary – 1997 Tim Koss
Since I Fell For You – 1945 Buddy Johnson
Skylark – 1942 Hoagy Carmichael, Johnny Mercer
Smoke Gets In Your Eyes – 1933 Jerome Kern & Otto Harbach
So Danco Samba – 1962 Antonio Carlos Jobim, Vincius de Moraes
So Nice (Summer Samba) – 1964 Marcos Valle & Norman Gimbel
So What – 1959 Miles Davis (Gil Evans & Paul Chambers)
Song for My Father – 1964 Horace Silver
Song of the Jet – 1962 Antonio Carlos Jobim
St. Louis Blues – 1914 W.C. Handy
Stardust – 1927 Hoagy Carmichael, lyrics Mitchell Parish
Stella By Starlight – 1944 Victor Young, lyrics Ned Washington
Stormy Weather – 1933 Harold Arlen & Ted Koehler
Summer Leaves – 1997 Tim Koss
Summer Samba – 1964 Brazilian composer Marcos Valle
Summertime – 1934 George Gershwin
Sweet And Lovely – 1931 Gus Arnheim, Charles N. Daniels & Harry Tobias
Take Five – 1959 Paul Desmond
Take Ten – 1963 Paul Desmond
Take The A Train – 1939 Billy Strayhorn (for Duke Ellington)
Tangerine – 1941 Victor Schertzinger, lyrics J. Mercer
Tenderly – 1946 Walter Lloyd Gross & Jack Lawrence
The Gift – 1959 Djalma Ferreira & Luiz Antonio & Paul Francis Webster
The Girl from Ipanema – 1962 Antonio Carlos Jobim
The Lady Is A Tramp – 1937 Richard Rodgers & Lorenz Hart
The Look of Love – 1967 Burt Bacharach & Hal David
The Nearness of You – 1938 Hoagy Carmichael & Ned Washington
There Will Never Be Another You – 1942 Harry Warren, lyrics Mack Gordon
These Foolish Things – 1935 Eric Maschwitz (aka Holt Marvell) & Jack Strachey
Things Ain't What They Used To Be – 1942 Mercer Ellington & Ted Persons
This Masquerade – 1972 Leon Russell
Till There Was You – 1957 Meredith Wilson
Topsy – 1939 Edgar Battle & Eddie Durham
Triste – 1966 Antonio Carlos Jobim
Watch What Happens – 1964 Michel LeGrand
Wave – 1967 Antonio Carlos Jobim
Wendy – 1976 (first release) Paul Desmond
When Sunny Gets Blue – 1956 Marvin Fisher & Jack Segal
You Took Advantage of Me – 1928 Richard Rodgers/Lorenz Hart